Commended by thousands of creative, passionate, and enthusiastic students from different zones, NSAM Academy boasts its popularity and fast-growth as the best designing college in mumbai. We are a team of highly experienced and talented people who have achieved global recognition. The customized courses are tailored to turn ideas with zeal into success stories; that's why our students re-impose faith. So, here meet faces behind NSAM Academy: -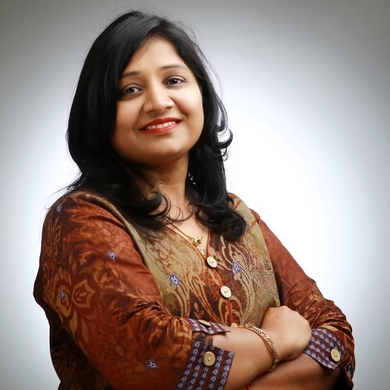 Neeru Jain is a visionary entrepreneur and educator who has dedicated her life to empowering aspiring fashion and design professionals. As the founder of NSAM Institute of Design, she is passionate about providing students with the tools and skills they need to bring their creative visions to life.
At NSAM, Neeru Jain fosters an inclusive and supportive environment that encourages students to express their unique perspectives and develop their individual strengths. She firmly believes that every student has the potential to make a significant impact in the industry and is committed to helping each one of them achieve their dreams.
Beyond her work at NSAM, Neeru Jain is also deeply committed to giving back to society. Through her charitable society, Parvarish Yogdan Sanstha, she has made it her mission to provide educational support to underprivileged students, empowering them to pursue their own dreams and aspirations.
For Neeru Jain, the most fulfilling aspect of her work is building positive relationships with her students and watching them grow and succeed. Her dedication to their success is truly inspiring and has helped countless individuals achieve their goals in the fashion and design industry.
Mr. Ayush Jain | Director
Ayush Jain is a visionary leader and a driving force behind NSAM Institute of Design's mission to empower the next generation of designers. As the Managing Director, Ayush brings a dynamic and ambitious spirit to the institute, constantly striving to take NSAM to the next level of excellence.
With a passion for innovation and creativity, Ayush is dedicated to providing students with a concrete platform to develop their skills, broaden their perspectives, and unleash their potential. He firmly believes that NSAM's students are the future of the design industry, and he is committed to providing them with the tools and resources they need to succeed on a global scale.
As an iconic director, Ayush has a unique vision for NSAM's future. He envisions the institute as a powerhouse of design, where students from all corners of the world come together to collaborate, learn, and push the boundaries of creativity. His infectious energy and unwavering commitment to excellence have inspired countless students to reach new heights and achieve their dreams.
Ayush's vision for NSAM extends beyond the classroom, as he is deeply committed to giving back to society. He believes that design has the power to create positive change in the world, and he is dedicated to using NSAM's resources and expertise to make a difference in the lives of others.
With Ayush Jain at the helm, NSAM Institute of Design is poised to become a leader in the world of design education. His inspiring leadership, boundless enthusiasm, and unwavering commitment to excellence make him a true asset to the institute and an inspiration to all who cross his path.